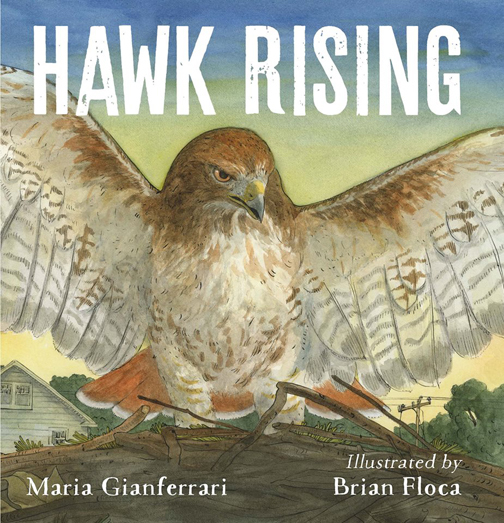 HAWK RISING, by Maria Gianferrari
Coming June, 2018
Preorder: IndieBound | Amazon | Barnes & Noble
Roaring Brook Press
A ruffle of feathers, a shadow gliding through the backyard. High above your house, Father Hawk circles, sharp eyes searching for prey. Swoosh! He dives after chipmunks, crows, sparrows, squirrels. Screech! The sun hangs low in the sky as three hungry chicks wait. Will they eat today?
A Junior Library Guild selection
★ Publishers Weekly (starred review):
"The spare, poetic prose of Gianferrari (Hello Goodbye Dog) joins the realistic watercolors of Floca (Princess Cora and the Crocodile) to present a day in the life of a red-tailed hawk.... Muted hues illustrate moments from Father Hawk's day as he scans for prey, sunbathes, dives after a chipmunk and sparrows, and finally snags a squirrel to bring back to the nest. All this plays out under the scrutinizing eyes of two young bird-watchers: a girl and her younger sister in a suburban neighborhood, who use binoculars to follow the progress of the feathered hunter.... Painted from varying angles, dynamic spreads and vignettes present the shifting perspectives of bird-watcher, hawk, and prey. The clever pacing and placement of text match the bird's actions across, up, and down the page. This captivating introduction to the red-tailed hawk concludes with more than a half-dozen facts about the common bird of prey and further reading." Full review here.
★ School Library Journal (starred review):
"A young unnamed girl observes a father hawk searching for prey to feed his young offspring.... The child continues to watch as the bird embarks on a number of unsuccessful endeavors.... As the day sinks toward darkness, the father hawk perches once again to wait and watch—finally, he catches a squirrel. Bird and human rest as the night closes in. The lyrical text captures the excitement of observing red-tailed hawks' hunting efforts in a residential setting. Floca's stunningly accurate watercolor illustrations beautifully complement Gianferrari's text. An incredible companion to the author's Coyote Moon, this latest powerfully demonstrates the wonder that can be found in observing the natural world. Additional information about red-tailed hawks makes the book a valuable educational tool, as well. ­VERDICT A first purchase for most libraries." –Heidi Grange, Summit Elementary School, Smithfield, UT. Full review here.
Kirkus Reviews:
"A male red-tailed hawk leaves a nest full of hatchlings to scout a suburban neighborhood for prey….[T]he terse narrative vividly captures both the weary vigil's length and its abrupt moments of mortal drama…. Alternating the perspective from ground level to high overhead, Floca depicts the majestic raptor with painterly magnificence, giving its variegated plumage a soft, even shaggy look that renders the climactic flashes of its massive black talons positively electrifying. The hunt finally comes to a decisive but gore-free culmination with the hawk "grabbing" a squirrel and winging off to the nearby nest. The author closes with two pages of additional facts and leads to further information. An absorbing reminder that we need never look far to see wild, beautiful nature." Full review here.
Bulletin of the Center for Children's Books:
"In this companion to Coyote Moon (BCCB 9/16), Gianferrari again observes an urban hunter as it finds prey to feed its young. A pair of sisters brings binoculars into their backyard to watch a male red-tailed hawk as it scans the landscape from telephone poles and trees, then swoops down to grab at prey (first a chipmunk, then a sparrow) that narrowly escapes with its life. Hours pass before the hawk finally kills a squirrel that can neither outrun the raptor nor hide in open ground. The younger of the two birdwatchers is obviously saddened to see the hawk fly into the sunset, squirrel dangling from its talons, but the closing spreads focus on the hawk family and its hard-earned dinner.... Gianferrari's poetic text layers lyrical beauty onto a harsh story of survival, and Floca's luminous scenes convey both honest objectivity—the terrified squirrel racing under the hawk's shadow and then gripped in its claws—and genuine sensitivity in the parent hawks' care for their chicks. Additional facts about red-tailed hawks, as well as print and online resources for further information, are appended." —Elizabeth Bush.